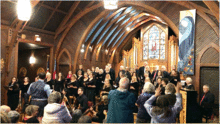 Event Information
California Redwood Chorale returns to live performing on Thanksgiving weekend.
Get Tickets Today to Experience CALIFORNIA REDWOOD CHORALE - PERFORMING LIVE on Saturday Nov 27 at St. Stephen's Church 500 Robinson Rd, sebastopol. Enjoy and be inspired! Share your experience on Social Media with #EventsfyYourWeekend for a chance to WIN Prizes!
Venue Information
St. Stephen's was founded in 1958. It is an Episcopal Church, a Christian community with a Biblical faith, and traditions that draw upon both Roman Catholic and Protestant history. We combine the beauty and mystery of sacramental worship with intellectual rigor and openness to theological inquiry. We draw upon a deep and rich heritage of art and music in our worship and spiritual life and we seek to respond to God's call to be a people of compassion and love.

We are particularly well-suited to ministry in west Sonoma County as a community that honors the diversity of gifts found among the young and old who reside in this special part of the world.
St. Stephen's Church
500 Robinson Rd
sebastopol CA 95472