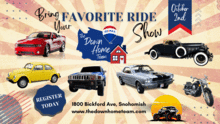 Event Information
Whether its a Classic Car, Motorcycle, UTV or just your favorite Ride... Bring it down to show it off!
Get Tickets Today to Experience Bring your FAVORITE RIDE Show on Sunday Oct 02 at Motto Mortgage Elite 1800 Bickford Ave, snohomish. Enjoy and be inspired! Share your experience on Social Media with #EventsfyYourWeekend for a chance to WIN Prizes!
Venue Information
Mortgage broker in Snohomish, Washington. Motto Mortgage Elite is an independently owned brokerage where loan originators work directly with a network of loan wholesalers to deliver a seamless, convenient and transparent experience to customers.
Motto Mortgage Elite
1800 Bickford Ave
snohomish WA 98290